Framework
The "Make Meaningful Work" framework is inspired by workshops globally where we facilitated questions and answers on how we can Make Meaningful Work.  
The groundwork includes a range of domains and industries such as financial services, education, media, logistics, e-commerce, insurance, utilities and hotels, just to name a few. This ensures that our framework works across a range of personalities, industries and cultures.
We covered:
Interviews, workshops and presentations to thousands of people globally to gain a clearer understanding of what work looks and feels like in their locales.
Expert inputs from a range of locations, industries, job roles, work experiences, cultures, work types and personal backgrounds.
Understanding local and global patterns in work places.
Presenting at conferences globally to look at the problems inside and outside of work.
Workshops with individuals and teams in organisations to collect stories and evidence to develop key elements of the Make Meaningful Work framework, tools and Sparkle Studio that inform our proposition and provide direction.
Desktop research including articles from hundreds of publications that cover business, innovation, leadership, change and transformation, digital, social science, psychology, philosophy, personal development, economics, sociology, engineering, design, art, linguistics, science, futures, Chinese philosophy, and traditional Chinese medicine.
Books on design, leadership, business, culture, innovation and change etc.
We also examined articles, books and films on Eastern and Western philosophy, and global conversations from diverse cultural backgrounds.
The Work Problem & Opportunity
Everyone at some time can get lost in the noise, speed, and delivery of day-to-day work. We might even forget why we are working on a project in the first place.
This can result in feeling frustrated, purposeless, stressed and unhealthy.
Distractions can shift our focus away from project tasks that we need to complete to achieve meaningful outcomes. They also create environments and cultures in which we might fall prey to transactional practices that leave us little room to pause, take stock and reflect on what is most important: the work that we are doing together and how we interact and relate with each other while doing that work.
We can all feel stuck at times.
We call this Sleepwalking.
We discovered that most of us want to spend more time on meaningful work and work with teams that are engaged in making that happen. Projects where our skills and practice strengths are working well together that encourage us to learn, improve and thrive.
We call this Sparkle.
A Studio & Learning Platform
The Studio & Learning Platform help "Reactivate your Potential" via the following:
MMW Book - this book describes the why, the tools and the Sparkle Studio experience to apply MMW in your own work.
Practice Spotting™ Tool - is an observational and sense-making tool to make the implicit practices explicit.
MMW Guided Practice Journal - helps to explicitly reflect, practice, record and sustain practices and includes cards for : Character, Story, Notes, Spotting, Practice and Progress; and also includes a Learning Portfolio and Meaning Canvas.
MMW Sparkle Studio - is both physical and online. It encapsulates a fun practice and learning experience.
Learning Adventures - online learning and development programs suitable for various audiences covering leadership, character building, team building and culture.
MMW Game - is a game mixed with online tools to make the learning experience fun, memorable and practical to action as a take away.
MMW Shows - is a series of shows that has guests from all over the world from different industries and disciplines.
This all forms part of the MMW global community.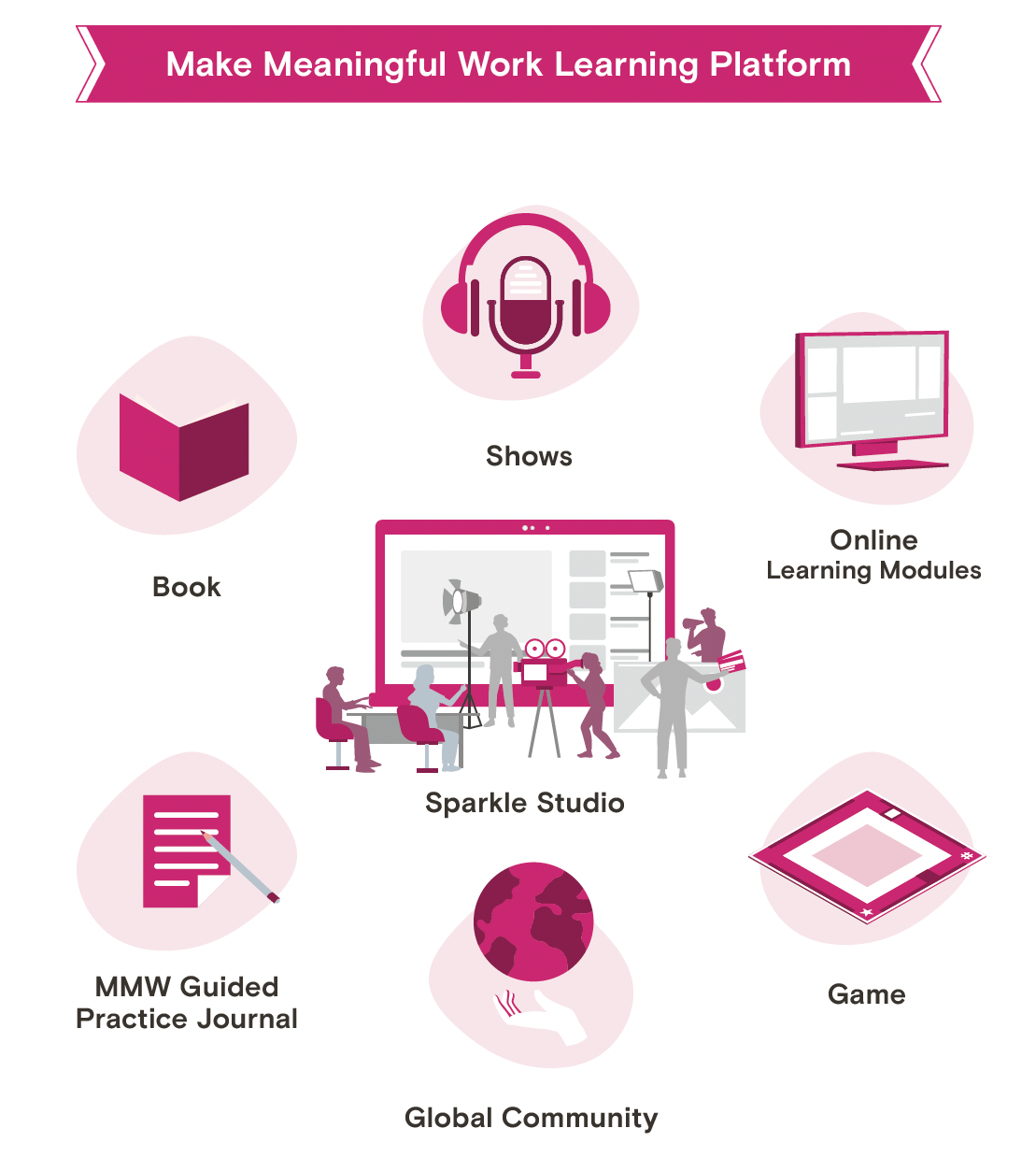 Outcomes
After integrating the Make Meaningful Work Learning platform into your existing process you will enjoy the following outcomes:
Use the Practice Spotting™ tool to turn implicit practices into explicit ones so that we know what you need to address or enhance.
Define a clear learning and development plan for transferable soft skills that we call practices.
Identify and continue using the practices that will build confidence and allow you to make meaningful decisions.
Use the Make Meaningful Work lenses to identify practice gaps.
Turn theories into actions with micro exercises that are contextualised and easy to practice.
Connect practices related to your role to apply and insert meaning immediately into your work.
Create, shape and rehearse the culture we want when organizations are aware of the desired behaviour.
Use the Make Meaningful Work Guided Practice Journal to record, reflect and track as we learn.
Develop and sustain actionable outcomes based on roles through continuous practice with various learning buddies.
Access Global Mentors to support the contextual needs and practice outcomes to Make Meaningful Work.
Make Meaningful Work is a triple win for individuals, organisations and society.
As you become more self aware by journalling and gaining your own perspectives, you will be  able to make unlikely connections by seeing more dots. You become more reflective and see the blind spots that you may not have seen before. This helps you to challenge your assumptions and make meaningful decisions.
It also helps integrate the practices into your daily work by enhancing quality relationships, asking more questions, challenging ideas and reinforcing the importance of always getting better. This is part of your own growth and development.